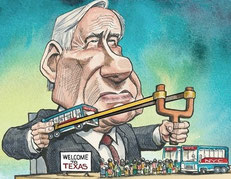 Talking tough and passing the buck
Economist, 27 August, 2022
"Talking tough on immigration is good politics in Texas. But in New York, it is equally facile to talk tough about those who talk tough about immigration, while basking in one's own compassion for those trying to enter Texas. With some 11m jobs unfilled in America this is a good moment for a long-deferred compromise on immigration..But that outcome would antagnoise extremists on both sides, and solve a problem that national politicians would rather campaign on." (Cartoon by KAL).