Migration travel today
The costs of transnational migration today: recruitment,  
  relocation, remittances (Migration News, April 2014)
Trend of air travel costs to the USA since 1990

International migration statistics (UN) 

Migrants camped out on international border between Guatemala and Mexico (LA Times, 21 October, 2018)

"Portraits from a Caravan"  (NY Times, 29 December, 2018)

Free flights for detained children  (LA Times, 22 June, 2018)

Cape Verde to Maranhão: 35 days, 3000 miles in 12m catamaran
(Guardian, 22 May, 2018)

25 men crowded and exposed to sun. After 10 days only meager food rations, then mast and motor broke, water ran out. Rescued by Brazilian fishermen.

Apprehending migrants in transit (Italy->France) through Switzerland
( Zürichsee Zeitung, pp. 18-19, 29 April 2016 [in German] )

Swiss border patrol searches train during "technical stop" in Brig. 15 men from Africa, Mideast, South Asia returned to Italy, under Schengen rules. Along this route, returns so far in 2016 are double that of the comparable period in 2015.
Costs of repatriating rejected asylum seekers from Switz. in 2015
( 20 Minuten (Zurich, Switzerland), p. 14, 10 February 2016 [in German] )

In 2015, authorities (Staatssekretariat für Migration) spent 8 Mio francs to 
return c. 6 thou. by regular airline, and 2 Mio for 228 by charter. It is unclear what costs (if any) other than air transport might be included in these sums.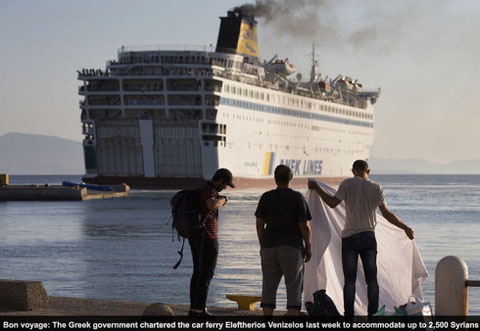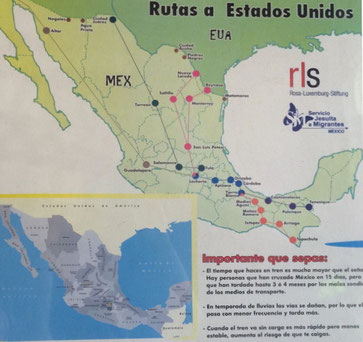 Children migrants through Mexico: "Between Borders" (NYT video)

Apprehensions at the US-Mexico are lower in 2015 versus 2014, but have risen markedly within Mexico. Casa Allianz in Honduras offers temporary shelter and assistance to those intending to migrate and those caught and returned. With smugglers fees having "doubled" to about "$8000," most recent teenage migrants travel on their own, solo or in small groups. Their chances are successfully reaching the USA are not considered good, but families in Central America see "no other option" for escaping gang violence there. (7 October, 2015).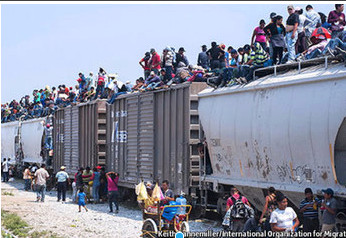 "La Bestia" train (Economist, 20 Sept, 2014, p. 5). A common
trans-migration route through Mexico in 2014: used less from 2015 on.
 Cubans to USA through Central America (Miami Herald, 18 Nov, 2015)
  Apparently, recent Cuban liberalization does not include direct flights to USA.
 Entering Europe via arctic bike rides (NY Times, 9 Oct, 2015)
 By bus and train through Hungary  (BBC, 29 Sep, 2015)
"Let refugees fly to Europe"  (NY Times, 25 Sep, 2015)
"Europe's River of Migrants"  (NY Times, 27 Aug, 2015)
  New routes and travel methods Cuba-USA (NY Times, 10 Oct, 2014)
  Expanded U.S. gateway? Tijuana Int'l Airport  (NY Times, 19 Jan, 2014)
Contemporary unauthorized migration across the Mediterranean

Deadly Journey for Children: Central Medit. Route (UNICEF-pdf, Feb 2017)

Libya-Italy flow Europe's worst migration crisis (Economist, 22 Oct, 2016)
Thousands of migrants rescued off Libya coast (BBC, 30 August, 2016)
Mediterranean: world's most lethal migratory route (Pop & Soc, April 2016)
A 1.5% annual probability of death during the sea crossing between 2000 and 2015
850 lost when boat from Libya capsizes (Wash. Post, 21 April, 2015)
Stowaways on Greek Ferry to Italy (Maritime Executive, 1 Jan, 2015)
"Murder in the Mediterranean" (NY Times, 19 Sept, 2014)
The 800 thousand and "Mare Nostrum" (NY Times, 19 May, 2014)
Half of illegal immigration to Europe is by boat (Pew, April 2014)
Migrant boat capsizes near Lampedusa (BBC, 4 Oct, 2013)
Pope meets migrants in the Mediterranean (BBC, 8 July, 2013)

Contemporary international migration by airplane (links):
"Novel solution to mass emigration" ("Authorities...are simply stopping their countrymen from getting on planes." Economist, 7 July 2018)
"Concession" airfares provided from Int'l Organization for Migration
Immigration and high airfares to the UK
Travel accounts of immigrants to New Zealand
Immigration to Australia by airplane
Immigration to Australia - travel deals
Special airfares for migrants to Australia
Other:
"How America's Visa Laws Affect the Travel Industry"
See also:
Contemporary migration processes
This page last updated 31 December, 2018