Lusitania and Mauretania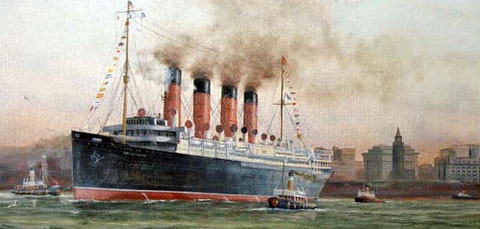 A painting of the MAURETANIA leaving Liverpool

http://www.liverpoolships.org/the_mauretania_of_1907.html
Lusitania as a wonder of the world
Lusitania was ordered by the Cunard Line from John Brown and Company, Glasgow shipbuilders, in 1905, launched in 1906, and left Liverpool on her maiden voyage in September of 1907, which marked the first time the Atlantic had ever been crossed in under five days (4 days, 23 hours).
In the years before the outbreak of World War I, Lusitania carried 173 thousand second and steerage class passengers (counting crossings in both directions) between Liverpool and New York; her sister ship Mauretania carried 181 thousand.  The quality of the closed berth steerage (3rd class) accommodations on Lusitania and Mauretania were widely praised, particularly the dining facilities, showers, and deck space for exercise. Lusitania (and Mauretania following soon after it), proved to be a very popular ship for emigrants traveling to North America. Of all North Atlantic passenger liners in service between 1900 and 1914, only 22 carried more second and steerage class passengers (and they all started service before Lusitania and Mauretania did (Keeling, Business, Voyage Database) ).
Lusitania was torpedoed and sunk by German submarine U.20 in
July of 1915; probably the most significant of such sinkings during World War I in terms both of the number of lives lost and the effect upon popular opinion.
Sources:
J.H. Isherwood, Steamers of the Past (Liverpool, 1966), pp. 66-70.
N.R.P. Bonsor, North Atlantic Seaway (1975), p. 157
Drew Keeling, The Business of Transatlantic Migration, pp. 228-30.
Lusitania FAQ (website of J. Wang)
   This page last updated May 31, 2014